DEMONETISATION
What is demonetisation?
Demonetization for us means that Reserve Bank of India has withdrawn the old Rs 500 and Rs 1000 notes as a official mode of payment.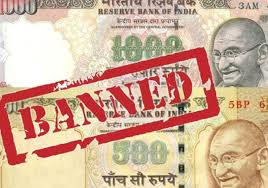 What was the reason?
The reasoning given by Modi was:
1) To tackle black money in the economy.
2) To lower the cash circulation in the country which "is directly related to corruption in our country, " according to PM Modi.
3) To eliminate fake currency and dodgy funds which have been used by terror groups to fund terrorism in India.
4) The move is estimated to scoop out more than more than Rs 5 lakh crore black money from the economy, according to Baba Ramdev, a staunch Modi supporter.
How it will impact economy?
Since our economy is heavily dependent on cash, as only less than half the population uses banking system for monetary transactions, demonetisation has hit trade and consumption hard. With people scrambling for cash to pay for goods and services, the move is likely to take a big toll on the country's growth and output during the current fiscal. Consumption makes up for around 56% of India's GDP , hence, a drop in spending will pull down growth. The current step could also lead to behavioral changes in households savings and their consumption pattern.
Read more at: http://economictimes.indiatimes.com/articleshow/55678393.cms?utm_source=contentofinterest&utm_medium=text&utm_campaign=cppst
http://economictimes.indiatimes.com/articleshow/55326862.cms?utm_source=contentofinterest&utm_medium=text&utm_campaign=cppst
http://blogs.timesofindia.indiatimes.com/emphasis/who-advised-demonetisation/